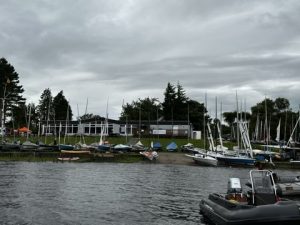 Another Bass Week is ready and raring to go. The camp site is buzzing and everyone is gathering again like long lost friends, together with visits by some wind and rain (unfortunately)!
However, the forecast wind and rain were keeping a low profile, for the first race (at least) which was completed without incident, though a windshift made the beats somewhat one sided.
With so many boats on the water, it is not surprising there was a bump or two, hopefully nothing serious though!
The wind was steadier in direction for the second race, the rain held off, and the sun started to break through the clouds, for a good conclusion to the day's racing sponsored by CraftInsure
The evening entertainment will commence with the Commodore's reception, followed by a disco till late.