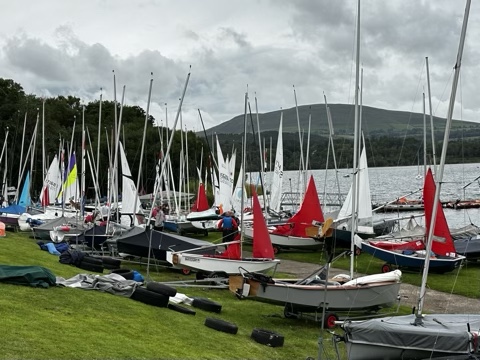 No sign of the storms at Bassenthwaite. Sunday started with mirror like conditions, so racing was delayed by 45 minutes allowing the wind to fill in from the west.
Despite the wind bedding in, shortly after the first start it eased considerably for 5-10 minutes before returning.
The wind for the afternoon race seemed to be bolstered by a sea breeze until a black cloud moved in, and reaches turned into beats, then it continued to veer until the initial beats were runs, and the wind finally faded prolonging the race for half the fleet.
Fortunately the black cloud didn't dump any rain…
The first prize giving of the week for the weekend series followed.
A visit from the fish and chip, and waffle, vans, should re-energise the sailors in time for the hotly contested quiz evening!