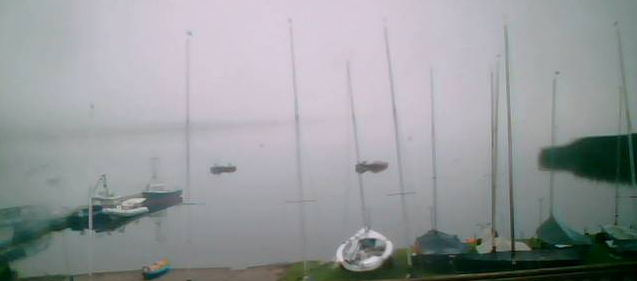 A misty start to the morning but hopefully there will be a light breeze to blow it away and get some racing in, but with the sun due to shine will we have to wait for a sea breeze to be the saviour today?
The OD was confident that when the wind swung to the west, it would be good for racing, and he was right! Racing was delayed slightly as a result, but got underway in good airs. In the Mirrors, our bar manager Emma Smith, and F15 world champion Graham Vials, were too far OCS for the OD, Emma's brother in law(!), to ignore and they were both recalled. Graham did recover his position, aided by an errant fast handicap boat's positioning, pulled through to win from Paul Allen.
The afternoon race was the much sought after RNLI Silver Salver. The varying wind strength came in at a time that suited the Solo's start, and Commodore Robin Dawson took full advantage, soon taking the lead, and then breaking away into clear airs that he held for the final third of the race, winning by a clear margin.
In the afternoon the children were entertained by Pirate Pete (or something similar!), and there will be a film night to keep those wanting a quiet evening entertained.