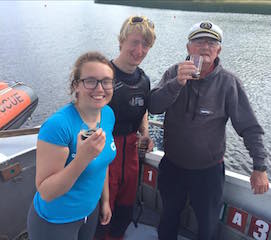 After a damp night for campers, perhaps the stormy weather has finally blown through? The day was dry, with lighter, shifty winds that still resulted in a handful of capsizes.
At lunchtime OD Alex took Olivia out to check the winds for the afternoon race when Olivia's cousin(?) Ethan sailed past, raised a gennaker bearing the words 'Marry me'. This was, of course set up by Alex, and he was delighted that Olivia accepted! After a quick toast by Herb, they soon went their separate ways with Alex officiating the afternoon pursuit race, and Olivia looking after the childrens' party with some cheer leading.
Shortly after the start, the wind freshened slightly for the pursuit, giving the Mirrors more of a challenge, but they managed to hold off the competition until the final minutes of the 80 min race when Andy & Rob Smith in a GP, and Paul Allen in a Phantom, took the lead and finished moments apart in that order.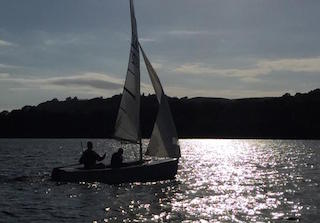 The evening was glorious and 31 boats took part in an early evening race which was run as a single race on fleet handicap basis.
A quiet evening followed barbecuing, and then watching films.