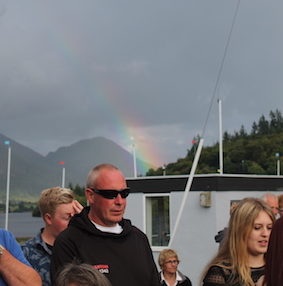 A lovely morning to start the day, with some good winds forecast for the two race series. Unfortunately the forecast high risk of showers came true with a vengeance over lunchtime, and they lingered on until racing started taking the strength out of the wind for a short while. Once the black clouds disappeared, the wind returned.
As the threat of showers remained, the prizes were set up under a gazebo for the 2nd prizegiving of the week during which a rainbow appeared nearby but the rain missed us.
An evening of dancing lay ahead for many!
During the day the younger non-sailors had fun painting stones and they can be seen proudly displaying them below