Showers at the start of Saturday were unexpected and unwelcome, but they passed through by mid morning and the wind continued to freshen from the west (though there were some mega shifts for sailors to contend with)
Gusts made sailing lively and hard work, especially as there were three races scheduled! Numbers did diminish through the day following capsizes, and exhaustion (perhaps an exaggeration). The sun came out again and there was another lovely evening, but rain is forecast for the final day…
The final fling disco will help sailors burn up any spare energy they still possess. It seems that some had enough energy to keep going till 4 am!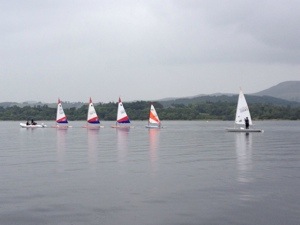 Sunday's forecast was initially for lots of wind and rain. Fortunately the rain appeared as drizzly showers, whilst the wind was from the south east, and freshening – ideal conditions for racing around the lake (again). Sally's reaction on seeing the course is not repeatable! Not long into the start sequence the wind began to ease rather than increase, and the wind in the bay just about disappeared altogether (not good when the course had two marks almost 4 miles apart!). Although most of the fleet made it back within 90 mins, some Lasers, Toppers and Teras took over 2 hours and were towed back on a mirrored lake.
The final prize giving of the week followed at which Commodore Andy Smith thanked the large range of people that had worked so hard to prepare and deliver another successful Bass Week.
At the end of the prize giving some special perpetual trophies were awarded.