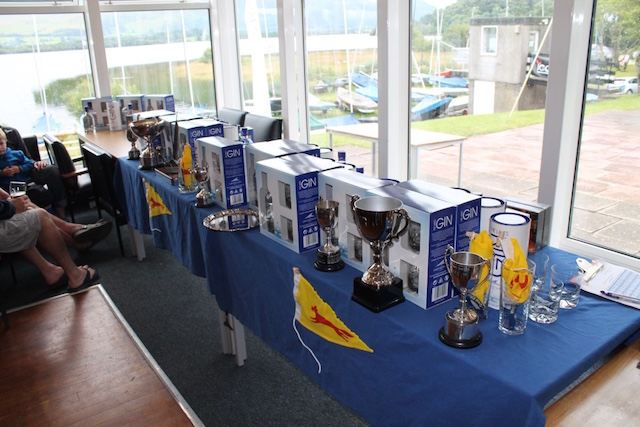 The high winds of Saturday eased and backed to the south offering the perfect opportunity for a race around the lake. With the lead boat in the handicap fleet completing the main 'lap' in less than an hour they were sent on a part lap back up to Scarness. They were the only fleet that needed to sail the short lap but many other boats didn't hear there finish signal, or look out for the S flag, and had to endure an extra beat unnecessarily.
The wind did ease slightly for the afternoon race but the true southerly was too good an opportunity not to send the fleets around the lake again. No laps of honour this time, but the onset of rain caused the rain to ease even more.
An excellent weekend's racing, which had more than 140 boats sailing, was sponsored by The Lakes Distillery, and Paul Currie, their MD, presented an array of The ONE Gin to those old enough to receive it (There was certain to be a few disappointed parents hoping to blag the spirit!). After a prize giving, Sunday's entertainment took the form of a quiz night. No doubt it'll be as rowdy as ever!